To capture an image, click your right mouse button and choose the "Save Image As" option.
E-mail Chris for a full resolution (print quality) copy.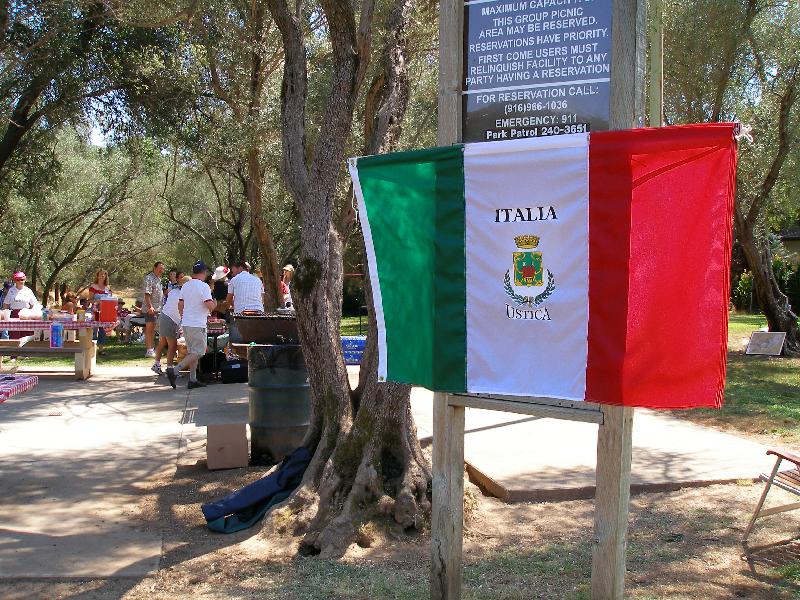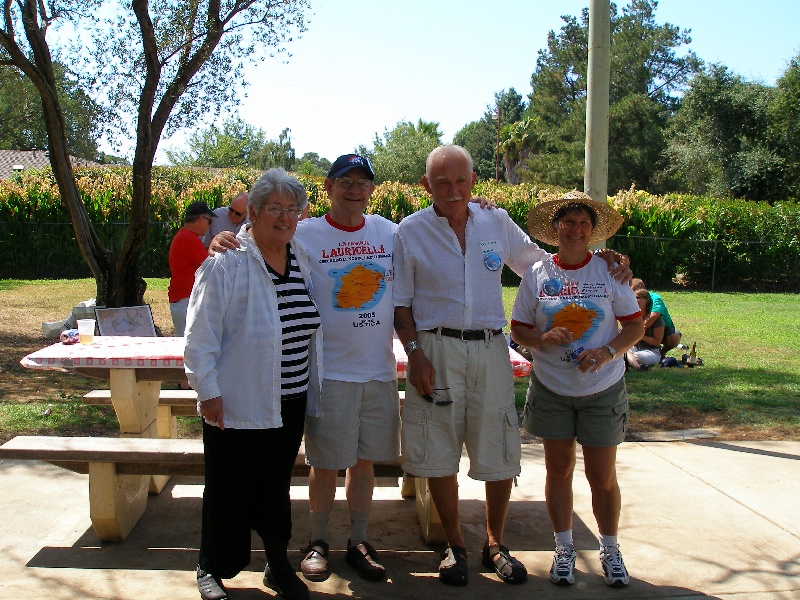 Gayle Schiller, Fred Laurice (host and organizer of the gathering), Bob Frenna and Wendy Laurice Horton (Fred's sister). Gayle is Bob's niece and both are descended from Ignazio Frenna & Domenica Barraco. Fred and Wendy are part of the large family that descended from Giuseppe Lauricella & Giuseppa Giardino. Their T-shirts are mementos from the family trip to Ustica last year that included 19 family and friends.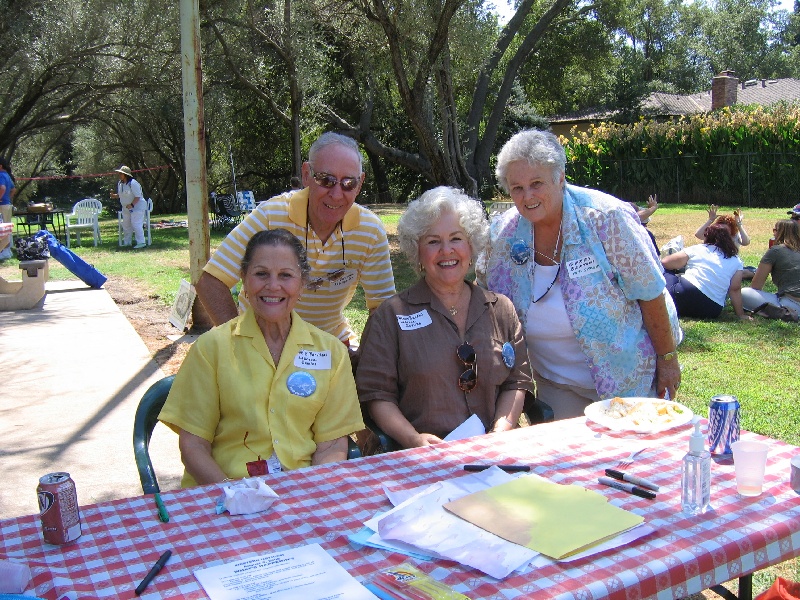 Greeters Loella Franz Barilleau & Paul Barilleau, Jeannie Franz Buckel (Loella's sister) and Gerry Harney Bertucci (Angelo's wife). Loella, Paul and Jeannie were in from Baton Rouge, Lousiana -- Gerry and Angelo from Beaverton, Oregon. Loella and Jeannie are descended of Pasquale Grego (LaGreca) & Pauline Omner (Gumina)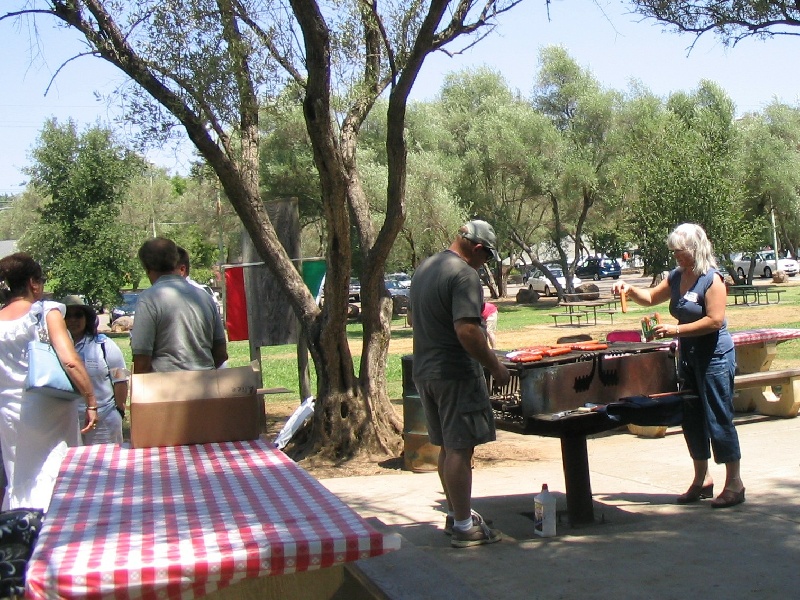 Cooks, Tom & Madge McLennan. Tom is part of the Lauricella/Giardino clan. The sausage and hot dogs were generously supplied by the Kaeslin family.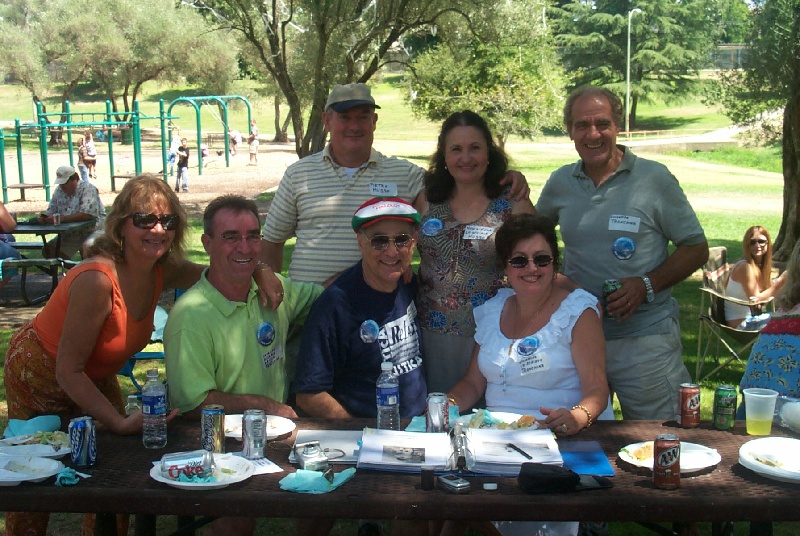 Back row left to right then front right to left - Pietro Musso & Nunziella LoSchiavo Musso, Giuseppe Tranchina & Giuseppina LoSchiavo Tranchina, Angelo Bertucci, Agostino Caserta & his guest Brenda. Giuseppe, Giuseppina, Nunziella & Agostino are native Usticesi. Pietro is from Carini. Giuseppina and Nunziella are sisters.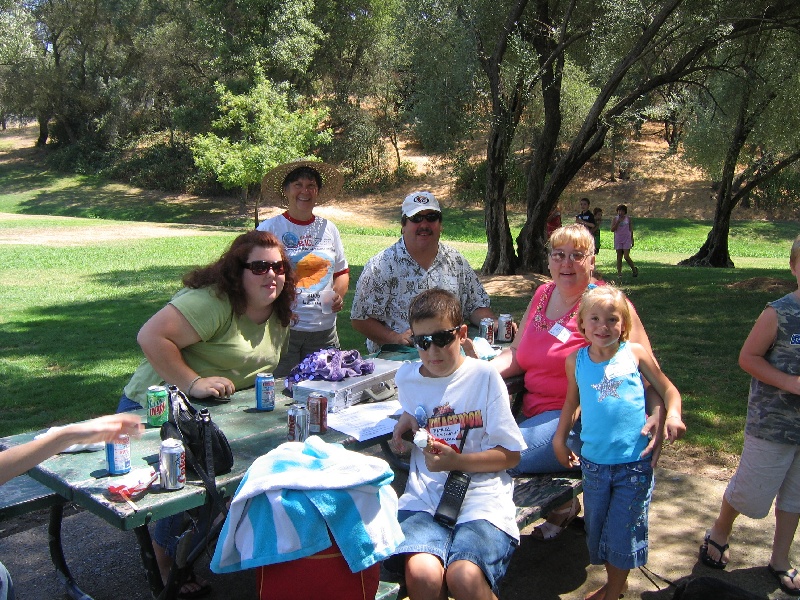 Kristen Campbell, Wendy Laurice Horton, Dan Campbell and his wife Holly with their daughter Emily. The young man is Dan and Holly's nephew, Patrick Weismann. The Campbells are children of Carol Lauricella Campbell. All are of the Lauricella/Giardino family.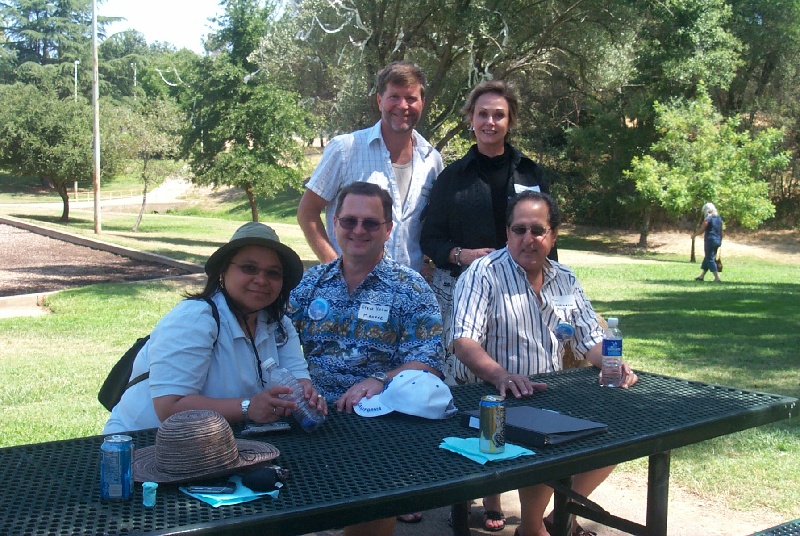 Back row left to right then front right to left - Chris Caravella, in from New Orleans, Elizabeth & John Lauricella, Steve & Enamari Vizzini. Chris is descended from Gaetano Caravella & Nunziata Mascari. John's family is originally from Salina, one of the Aeolian Islands. Steve is descended from Nicolo Tarantino & Rosa Manfre.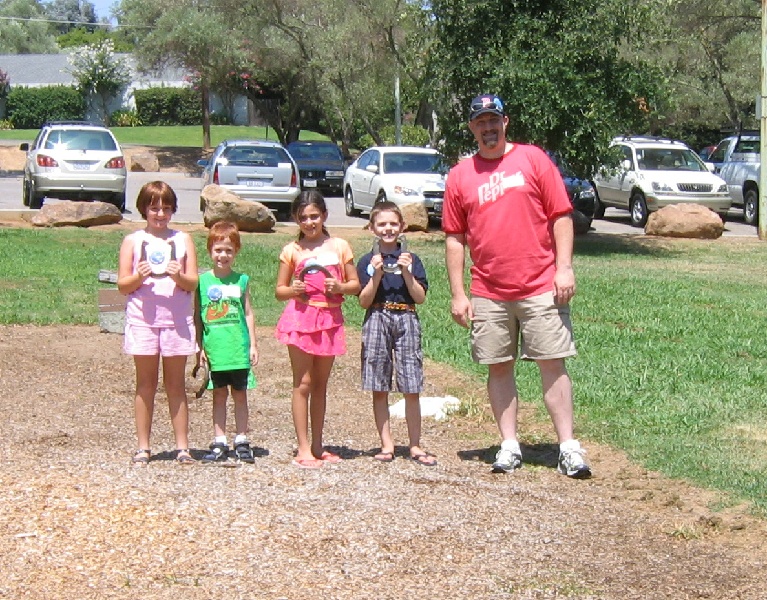 Matt McNamara, "gameskeeper" with four of his horseshoes proteges, from the left, Grace, John, Sara and David ... all of the Lauricella/Giardino family.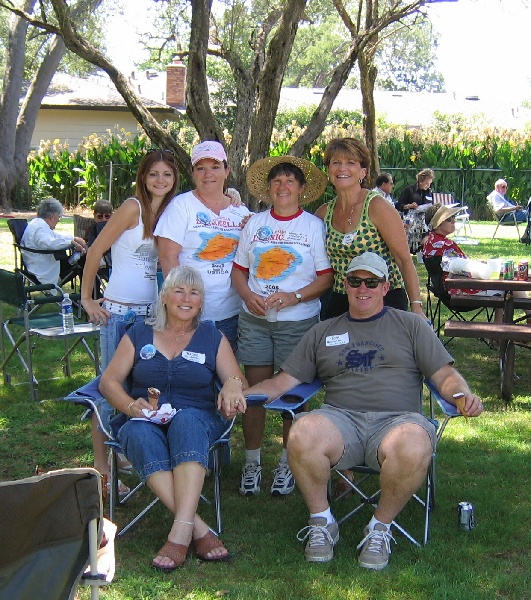 Top row, Jesse and Barbara VanValkenburg, Wendy Horton and Kate Borris; front, Madge and Tom McLennan ... all of the Lauricella/Giardino family.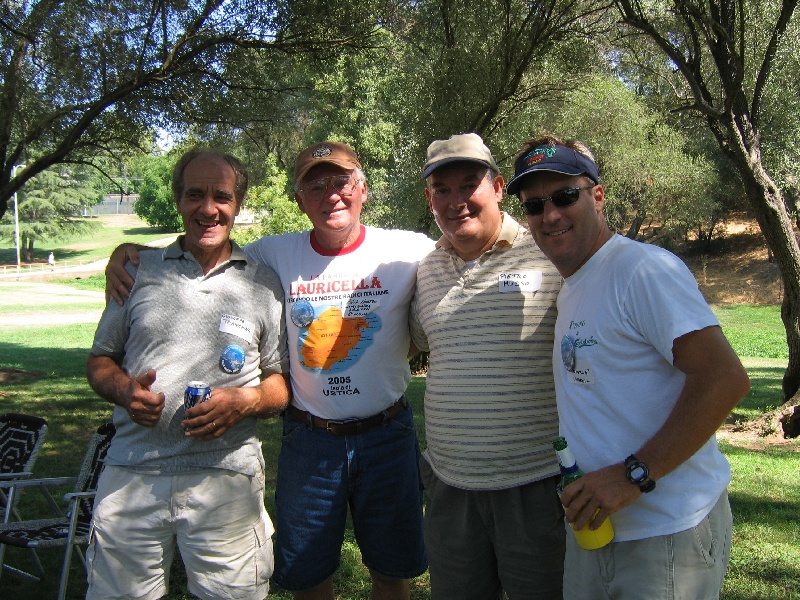 Giuseppe Tranchina, Phil Horton (Wendy's husband), Pietro Musso, and Bob Campbell. Bob is the son of Carol Lauricella Campbell.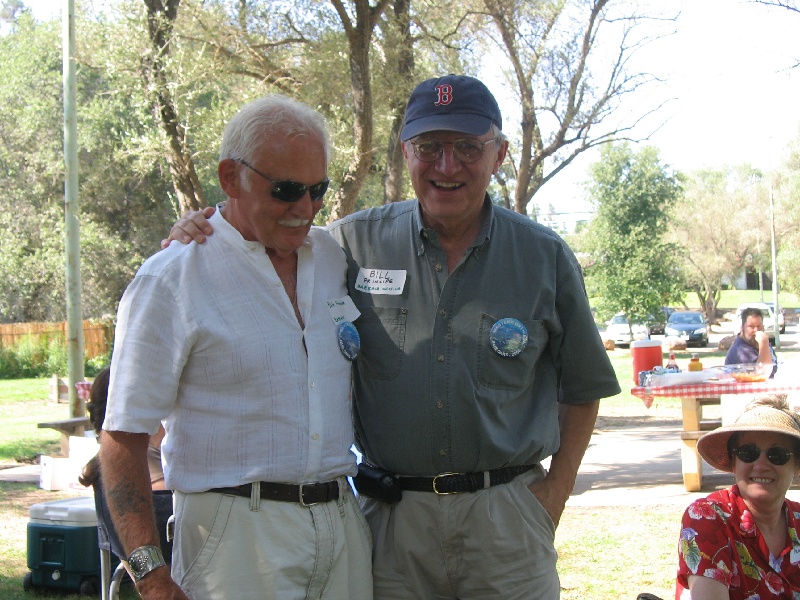 Bob Frenna and Bill Principe. Bill's wife Kathleen is seated to his right. Bill is descended from Vincenzo Messina & Anna Barraco. Bob, Bill and Gayle Schiller discovered that they were related.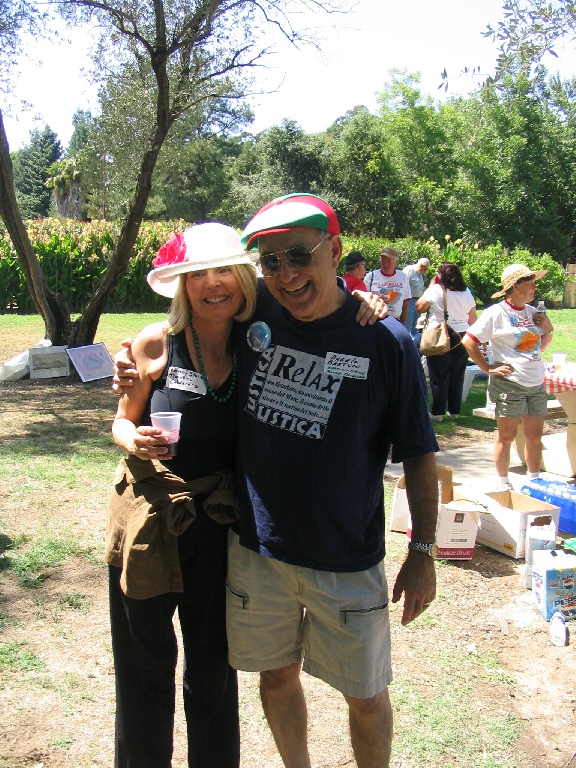 Nancy Stone and Angelo Bertucci. Nancy is descended from Casper Prima & Maria Tranchina. Angelo is a rare 100% Usticese-American. His parents were Angelo Bertucci & Angelina Picone.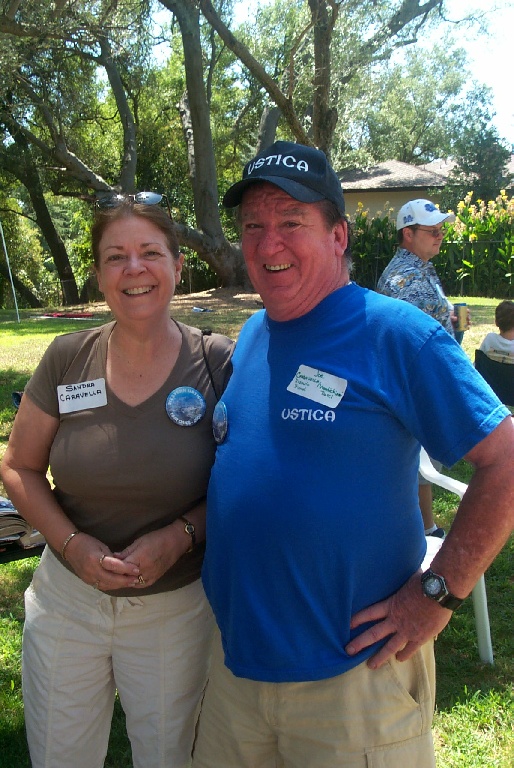 Sandra & Joe Caravella. Joe is descended from Vincenzo Caravella and Rosaria Verdichizzi. Joe and Chirs Caravella are 3rd cousins and met for the first time.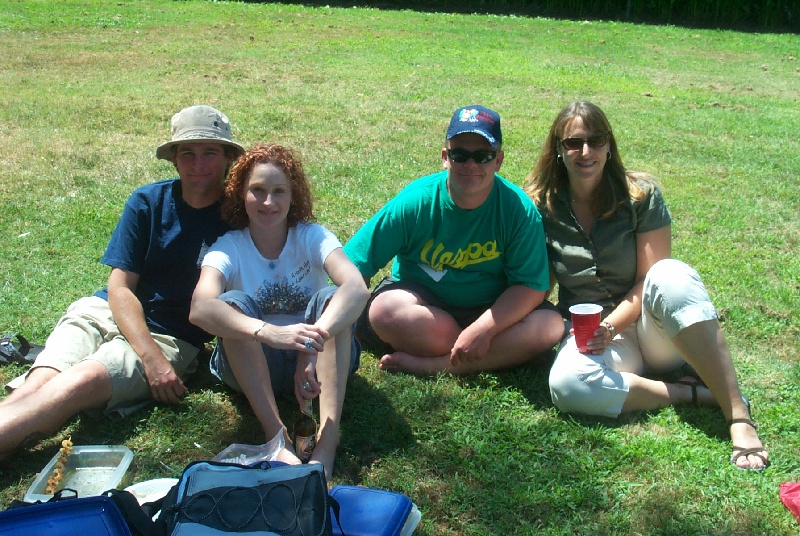 Shawn and Nicole Storc, David & Melissa Laurice. Nicole is the daughter of Phil and Wendy Horton and David is the son of Doug Laurice. All are members of the Lauricella/Giardino clan.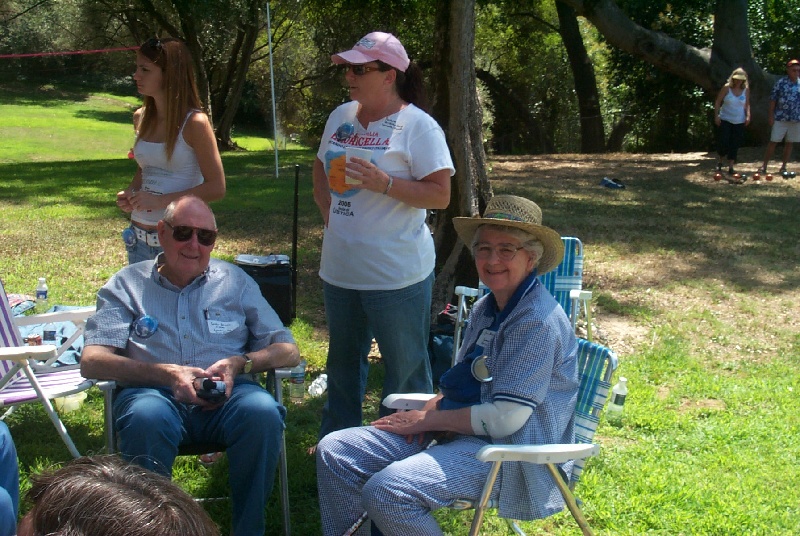 Back - Jesse and her mom, Barbara Van Valkenburg. Front - Gale Bruce and Jo-Jean Laurice Bruce. All are memebrs of the Lauricella/Giardino Clan.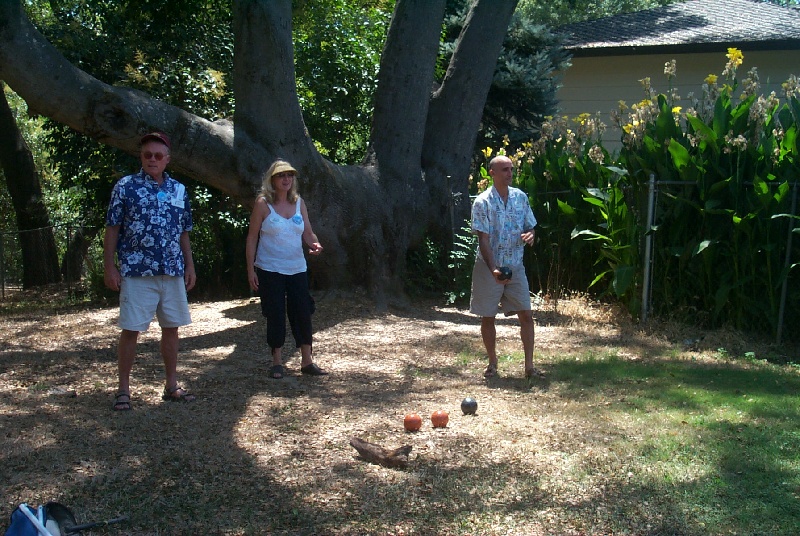 John Eilers, Alice Kaeslin and Chirs Prima playing Bocce ball. John was guest of Alice. Alice is Nancy Stone's sister. Chris and Alice are members of the Prima/Tranchina clan.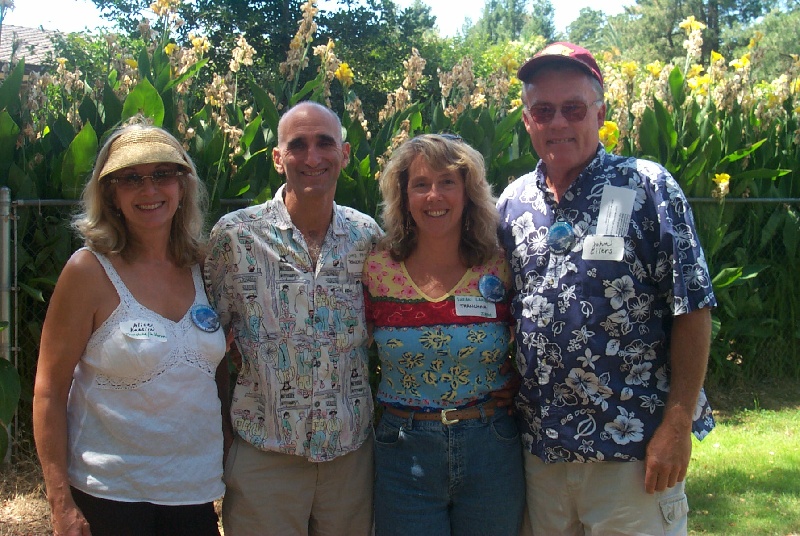 Alice Kaeslin, Chris Prima & Suzan Lang, John Eilers.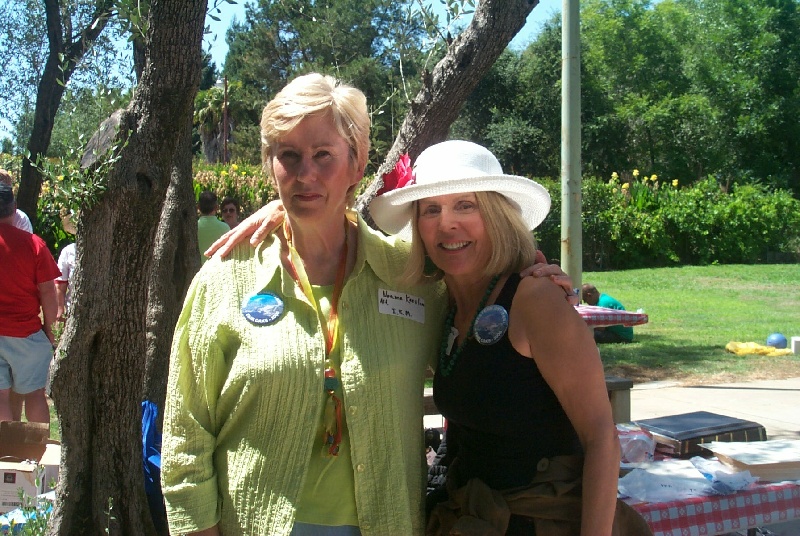 Norma Kaeslin and her sister-in-law, Nancy Kaeslin Stone.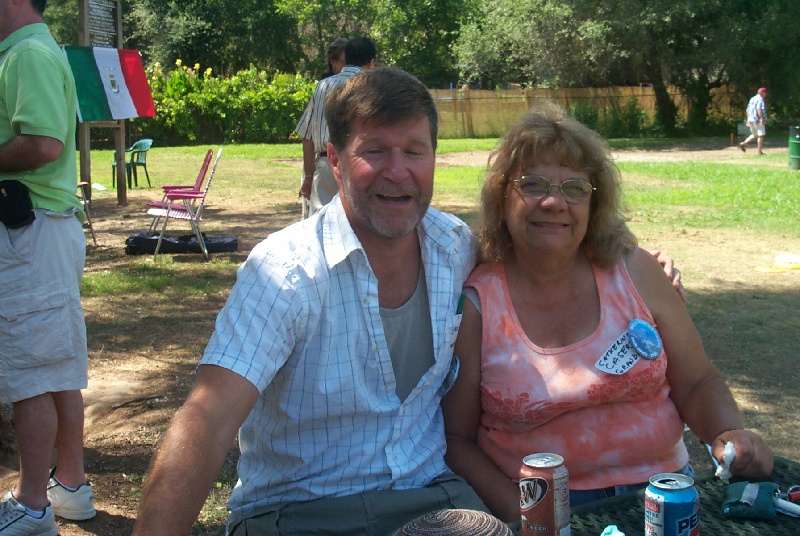 Chris Caravella and Catherine Caserta. Catherine is descended from Giuseppe Caserta & Caterina Alaimo.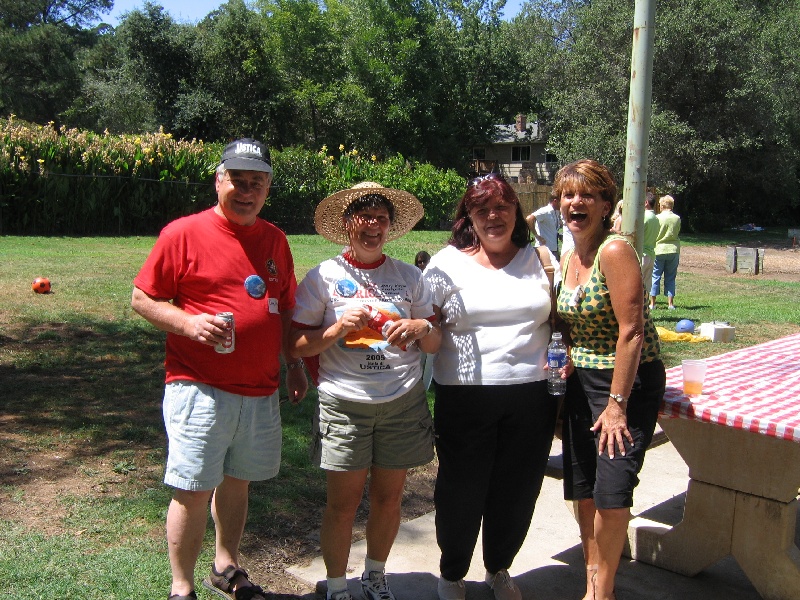 Doug Laurice, his sister Wendy Laurice Horton, his wife Susi and cousin Kate Borris, a daughter of Dorothy Lauricella Daniels.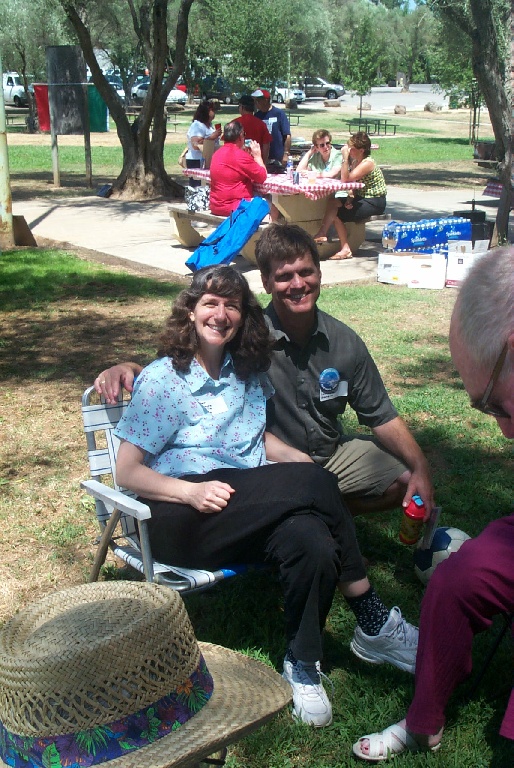 Heather and Mark Pattenaude. Heather is a daughter of Jo-Jean Laurice Bruce.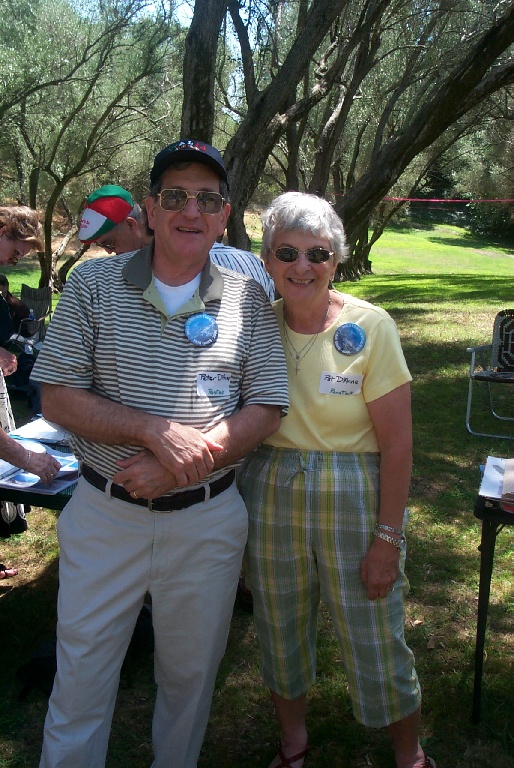 Peter D'Anna & Pat Baker D'Anna. Pat is descended from Ignazio LoPresto & Carmela Ranatza (Randazzo)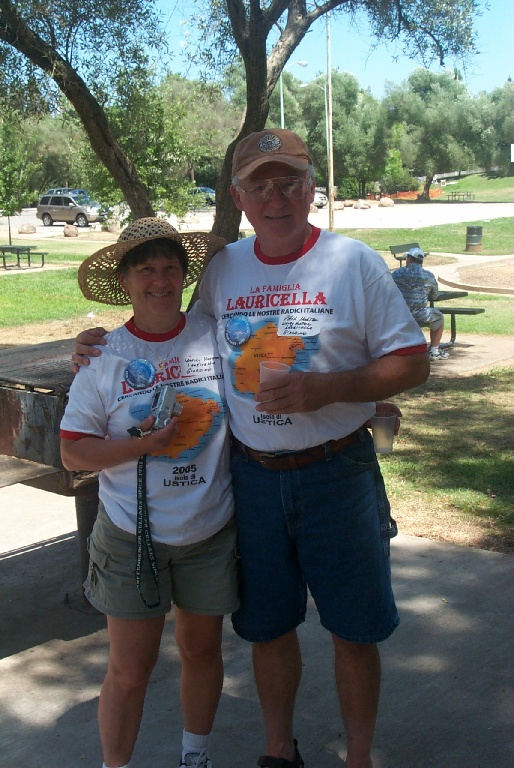 Wendy Laurice Horton & Phil Horton.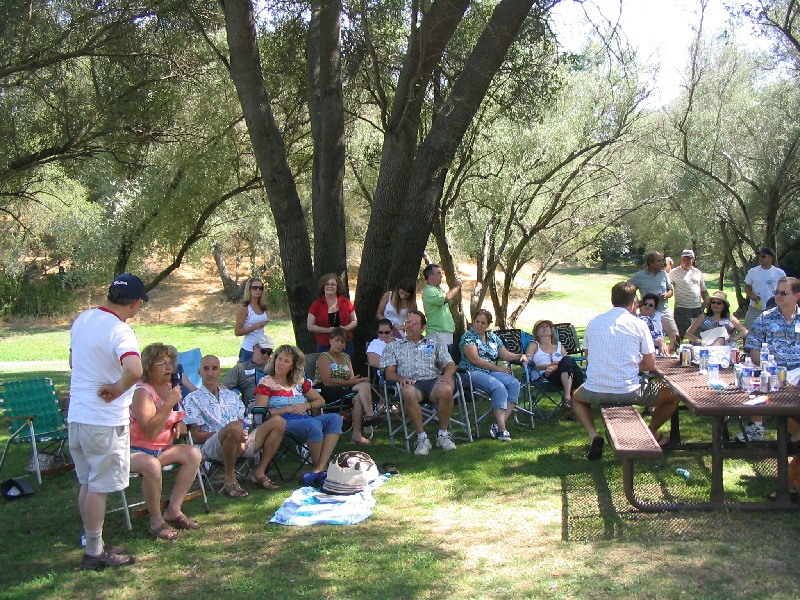 Catherine Caserta takes the mike as the group attentively listens to her family history.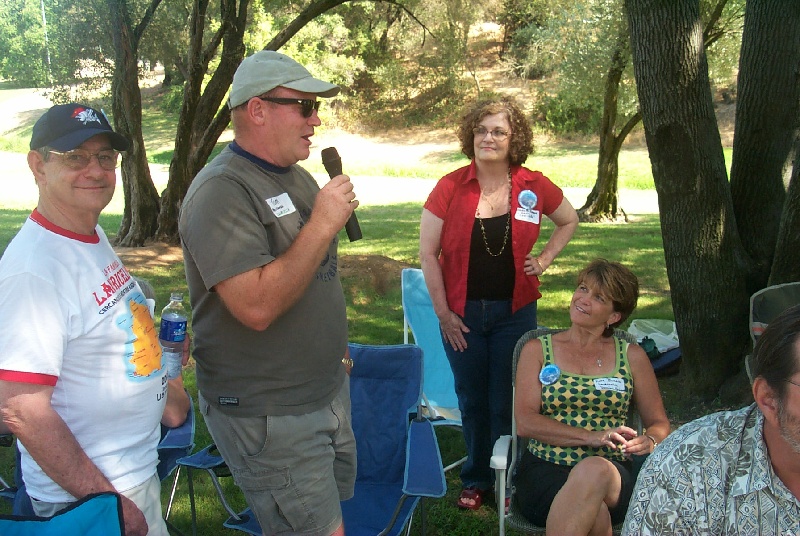 Fred Laurice, Tom McLennan, Jeanice McNamara and Kate Borris. Tom, Jeanice and Kate are offspring of Dorothy Lauricella Daniels.

Beverly Lauricella Michael and Mike Michael. Beverly is part of the Lauricella/Giardino clan.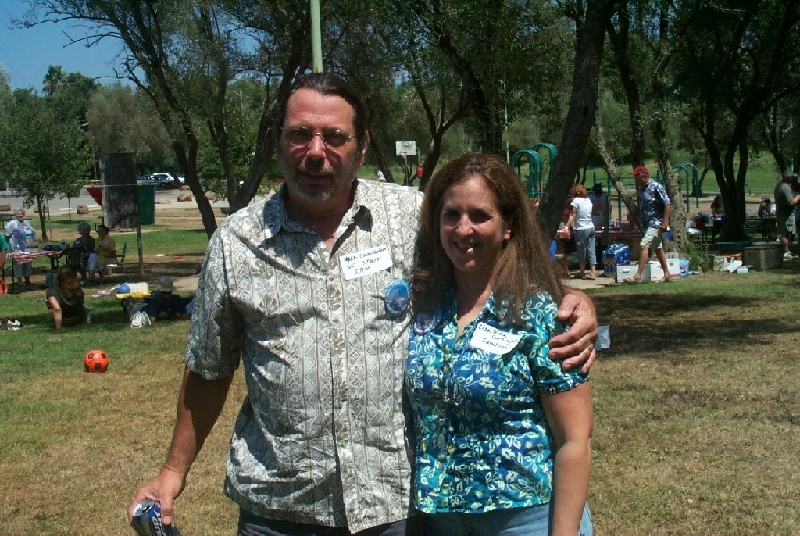 Mark Cuningham and Lisa Prima Cuningham. Lisa is Chris Prima's sister and part of the Prima/Tranchina clan.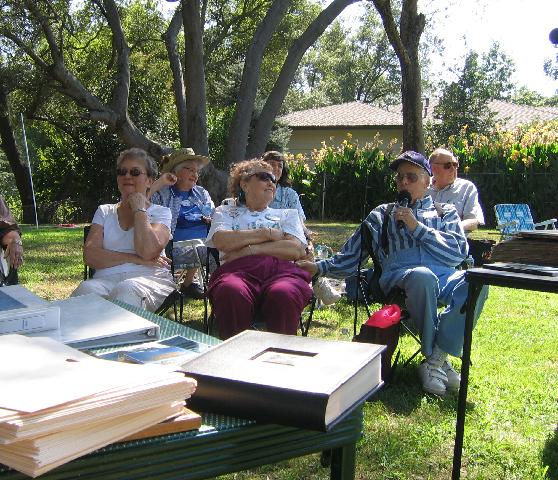 Front - Carol Lauricella Campbell, Dorothy Lauricella Daniels & Doug Daniels. Back - Jo-Jean Laurice Bruce, Heather Bruce Pattenaude and Gale Bruce. On the table are photo albums and family history that people brought to share.

Steve Vizzini, Angelo Bertucci and Ala Iannelli. Ala was guest of Catherine Caserta. Her family is Calabrese.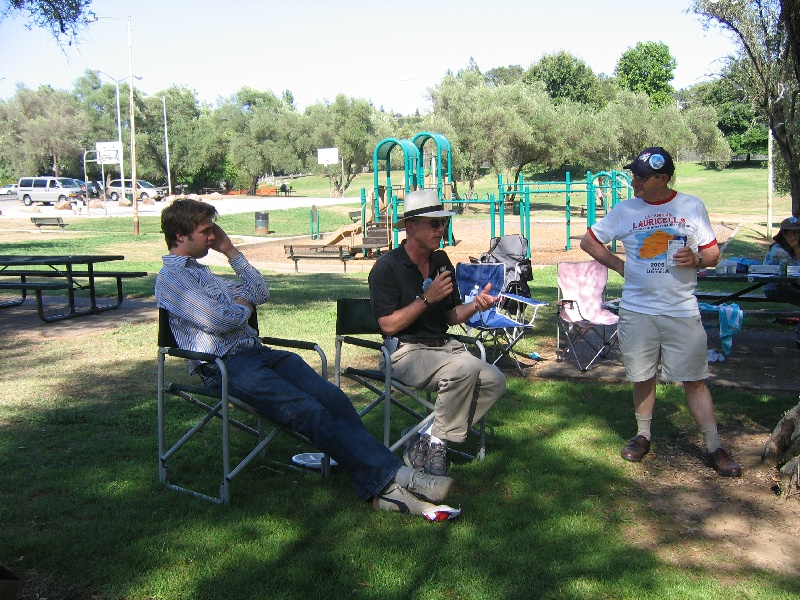 Hank Lauricella Jr recalls his family history. To his left is his son Nico. Emcee Fred is to the right. Hank and Nico are descended from Litterio Lauricella & Maria Palmisano. Hank's dad is former Louisiana State Senator Hank Lauricella Sr.

Kathleen Principe, Angelo Bertucci and his sister, Paula Bertucci.