---
Island of Ustica Study and Documentation Center

The Centro Studi e Documentazione Isola di Ustica is an organization based in Ustica which collects and records information concerning all aspects of the Island of Ustica. The membership is spread all across Italy and the U.S. but all have common ties to Ustica and a desire to promote their cultural heritage. The Centro Studi also recognizes the significant contributions from the population of US citizens that are descended from Usticesi immigrants. Displayed below are the some of the oustanding projects of the Centro Studi.
---
The Centro Studi newsletter, Lettera, is primarily in Italian, with a few prominent articles also published in English. The issue 30/31 December 2008 - April 2009 (64 pages with color photos) was dedicated to US descendants of Ustica in recognition of the 130th anniversary of the founding of the San Bartolomeo Society in New Orleans. Most of the articles are featured in both English and Italian, and include "The Emigratory Phenomenon of the 19th and 20th Centruies from Italy towards America", "Postacrds from Ustica" by Ronnie Virgets, "A Strange Coincidence: The San Francisco and Ustica Earthquakes of 1906" by Fred Laurice, "Modern History of Ustica: 1840-1850 - A Complex Decade" and much more.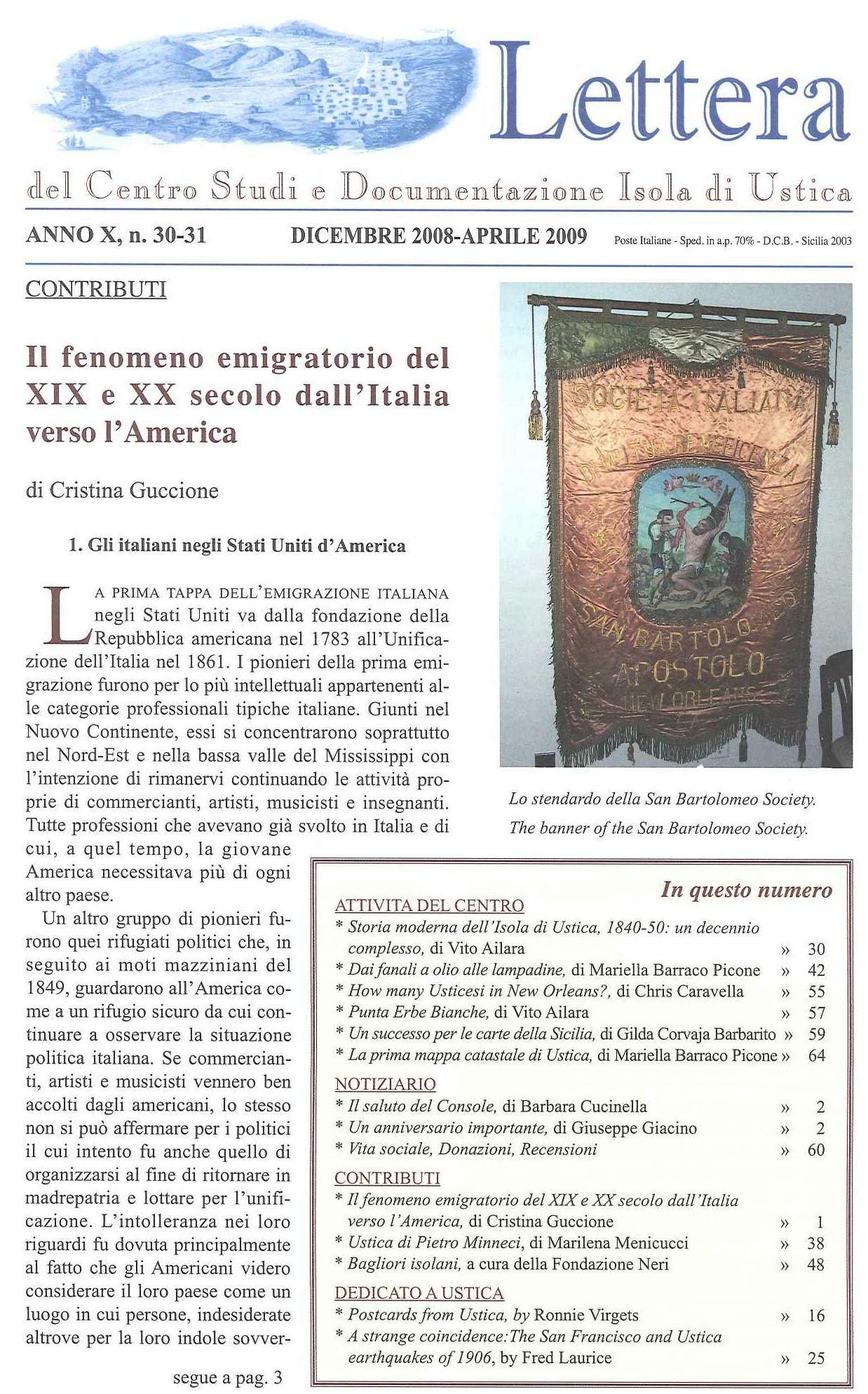 USTICA
Itinerari attraverso il paesaggio, le populazione e l'architettura di un'isola unica
USTICA
Itineraries across the landscape, the population and the architecture of a unique island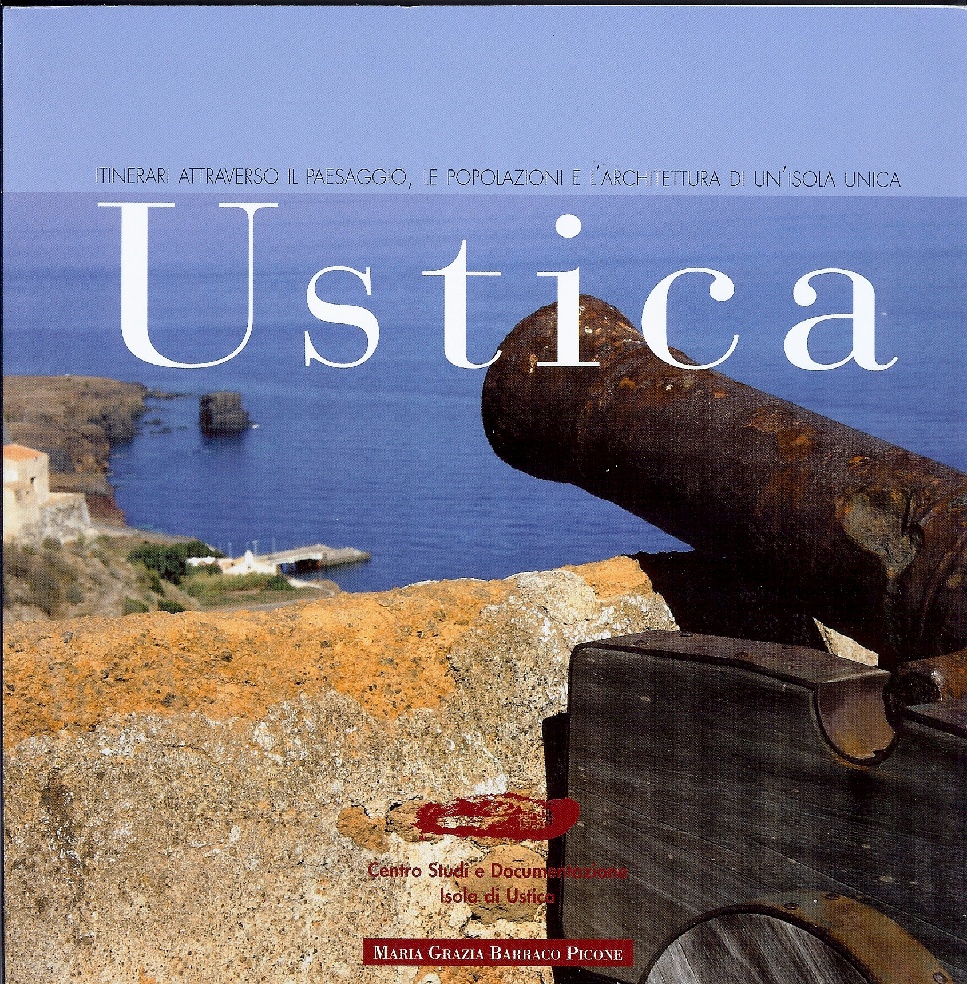 The Centro Studi proudly presents the fourth book in the Le Ossidiane series. Ustica is the ultimate guidebook of the island featuring 192 pages of richly illustrated itineraries exploring the history, culture, geography, architecture and naturalistic beauty of Ustica. The text is entirely in Italian.
The Centro Studi also occasionally issues a reprint of a historic map or print exclusively for members. Below is a past print featuring an 1852 full-color map of Ustica.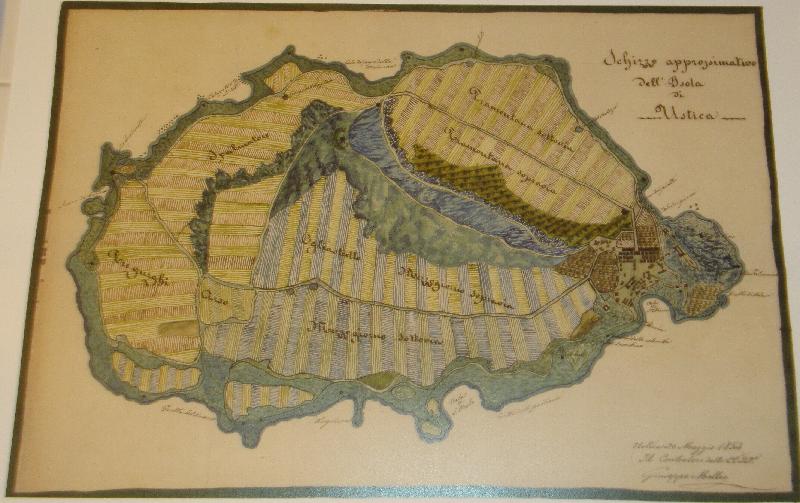 Included in the links below is an application form for membership in the Centro Studi. This is a great way to rekindle your ties to Ustica and help to promote our proud heritage. New members will receive the latest issue of Lettera AND a past reprint AND a book from the Ossidiane series as a Thank You for your support. The American collaborators of the Centro Studi also routinely supply additional translations of materials from the newletter, prints and books. Supplies are limited so please act quickly to take advantage of this great offer.
[Membership] [2004 Social] [2004 Downtown Tour] [Message Board]