As time and disk space permit, photos sent in by members will be posted to this page. Also use this page to help identify unknown people in old photos. Send comments and photos to Chris Caravella.
---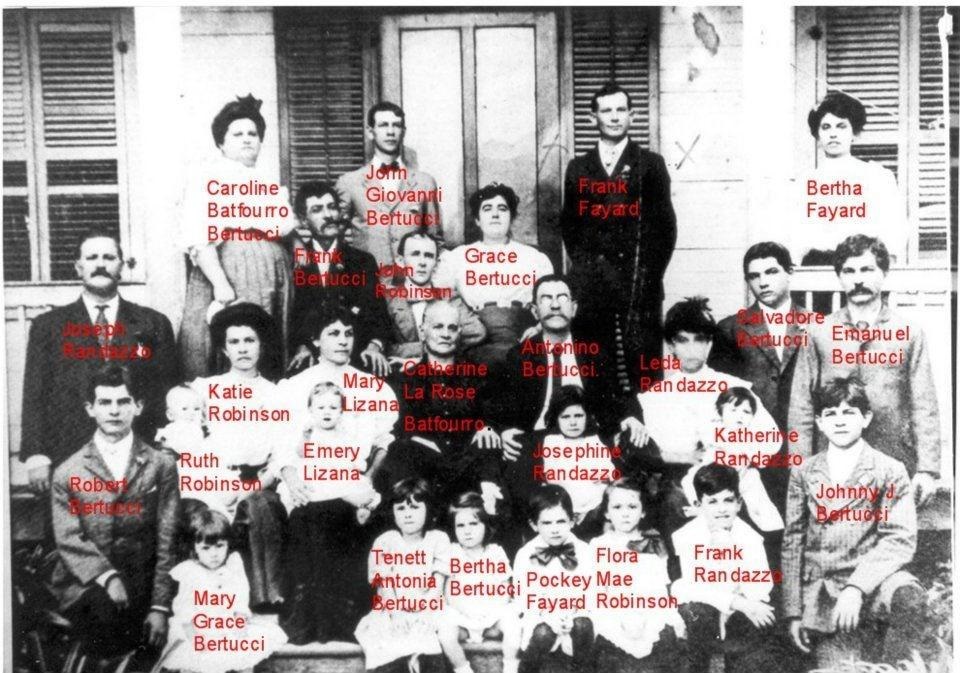 Bertucci Family of the Mississippi Gulf Coast, circa 1908. Source: Frank E Bertucci
---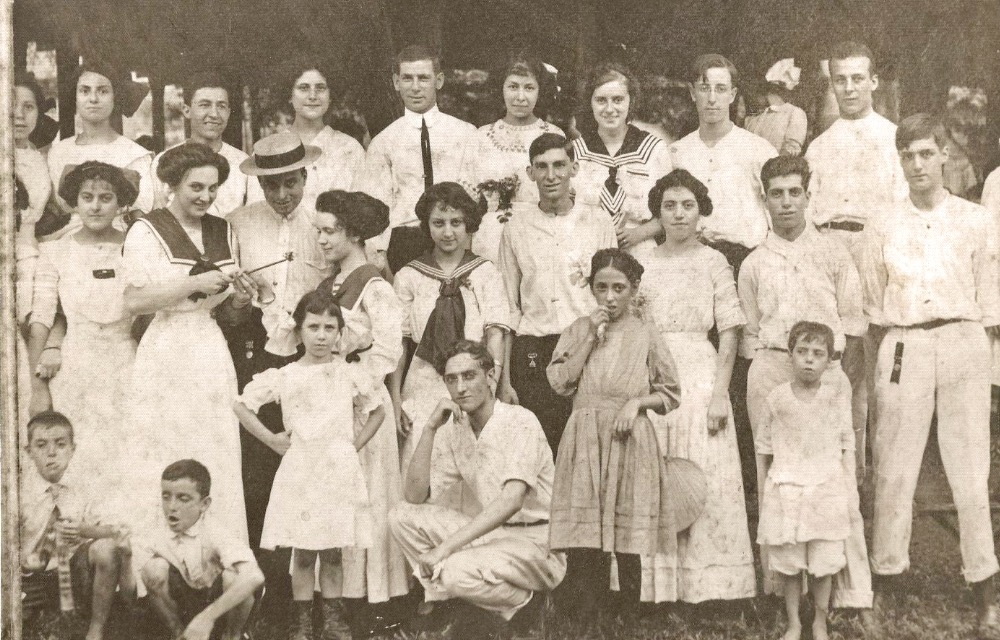 Photo of Palmisano/Fallo families in Metairie. Source: Gaylyn Danner
---
| | |
| --- | --- |
| | |
Ustica 1906 – Photo of a group of women, some with flowers in their hands (notes by Vito Ailara)
1
Caezza Maria b. 02-Sep-1834 wife of Rando Giuseppe A.; and mother of Cristina (my grandmother, n. 2), Paola, Domenico, etc. and grandmother of Mafalda
2
Rando Cristina b. 01-Sep-1870 wife of Vito Ailara 30-Dec-1903 died at Ustica 23-Jul-1961 daughter of Rando Giuseppe and Maria Caezza
3
Ailara Antonino b. 22-Jun-1905 son of Vito and Rando Cristina (second wife; n. 2)
4
Ailara Angela b. 1900 of my grandfather Vito and Barraco Angela (1st wife)
5
Lauricella Rosa 05-Sep-1890 (sister of Giovanna n. 9 and Domenica n. 8)
6
Di Mento Rosalia, sister of Placido Di Mento and sister-in-law of Lauricella Giovanna n. 9)
7
Palmisano Maria (sister of Teresa n. 11)
8
Lauricella Domenica b. 25-Mar-1897 (sister of Rosa n. 5 and Giovanna n. 9) wife of Di Mento Placido
9
Lauricella Giovanna b. 03-Nov-1887 (sister of Rosina n. 5 e Domenica n. 8) wife of Di Mento
10
Verdichizzi Rosa
11
Palmisano Teresa sister of Maria n. 7
12
La Cava Erminia b. 02-Aug-1882
13
Manfrč Vincenza b. ?? wife of Picone Ruggiero Pietro (uncle of Joeva Picone)
14
Ailara Gaetana aunt of my father Antonino and my aunt Angela (n. 3 and 4 ); sister of my grandfather Vito
15
Manfrč Rosa mother of Paola wife of Barraco Fedele (mother of n. 16)
16
Barraco Paola b. 01-Jul-1896 daughter of Fedele and Rosa Manfrč (daughter of n. 15)
---
| | |
| --- | --- |
| Giuseppe Efisio Taranto (aka Joseph Toronto) was a major figure in the Mormon Church in the mid 1800's. He was born in Sardinia, the son of an Usticesi father who immigrated there in 1803. In 1838 he came to the US living in New Orleans for a short time. Check out this LINK for a biography of Joseph Toronto. | |
---
| | |
| --- | --- |
| | Maria Morabito Marchese, wife of Giovanni and Salvatore Marchese (grandsons of Maria Manfre Anello) |
| Rosalia Anello (b. 15 JUN 1845 Palermo), daughter of Salvatore Anello of Palermo and Maria Manfre of Ustica (daughter of Gaetano Manfre and Maria Rando). | Antonino Anello b-1846, son of Maria Manfre Anello, daughter of Gaetano Manfre of Ustica. Antonino Anello is brother of Rosalia Anello. He was born in Palermo, married in Palermo 1875 to Nunzia Orso, (in picture). They had 4 children. Antonino and son Benedetto, worked as gardeners at the Villa Tasca in Palermo. |

Phtotos submitted by CSBA member, Marlene Robershaw of Ramona, CA.
---
Click HERE to view Janet Terrase's MyCanvas scrapbook of the family of Pascal Palmisano and Rosa Allo
---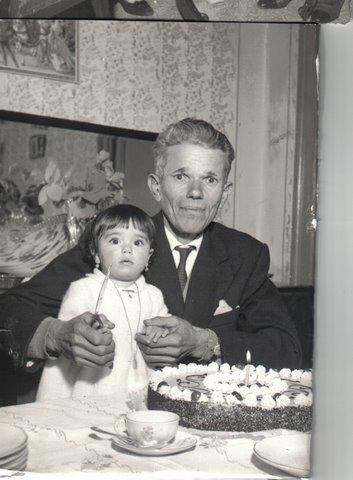 Dionisio Tranchina (b. 1911)
son of Pietro Tranchina and Pia Vannucci,
with granddaughter Rosa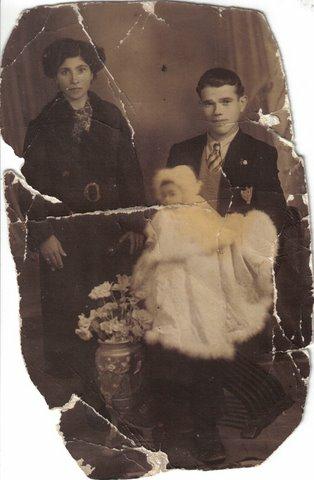 Dionisio Tranchina (b. 1911) and Maria Calia (b. 1913)
with daughter Pia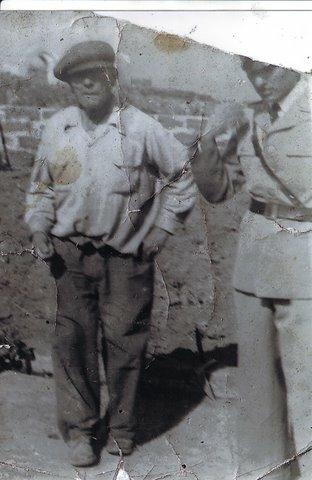 Salvatore Tranchina (b.1903)
son of Dionisio Tranchina
Daniele Tranchina (1907-1987) and Girolama Calia (1910-1991)
Daniele is the brother of Dionisio Tranchina

Photos from Rosa Stevens of California
---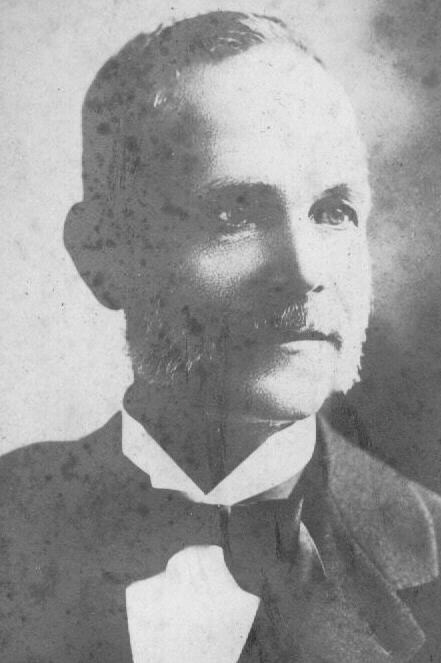 Antonino Compagno (1842-1902)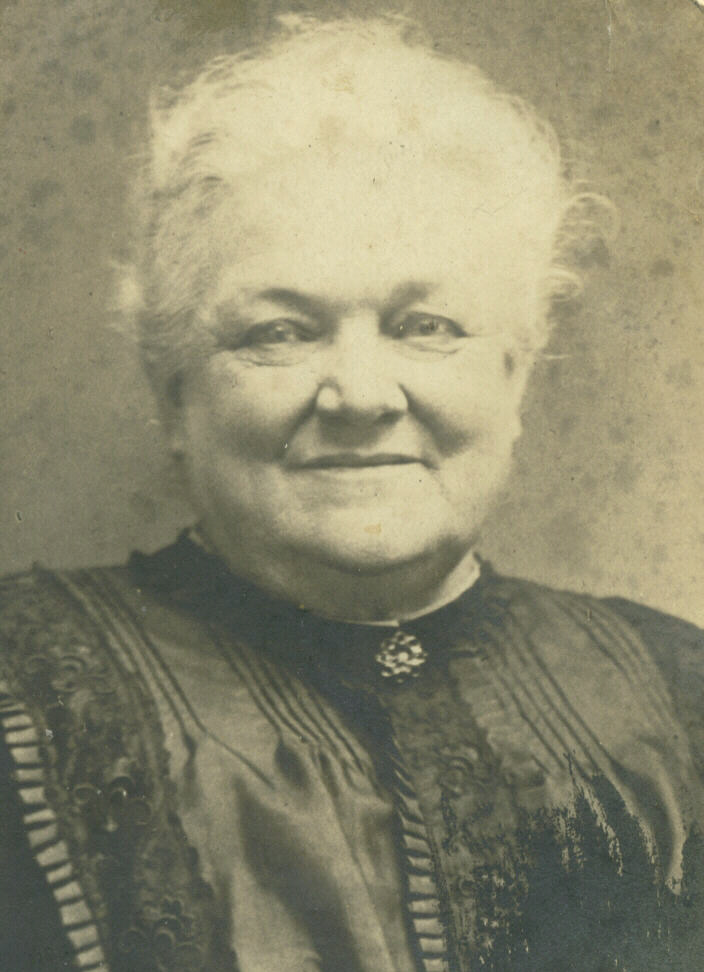 Julia Faivre Compagno (~1851-1923)
---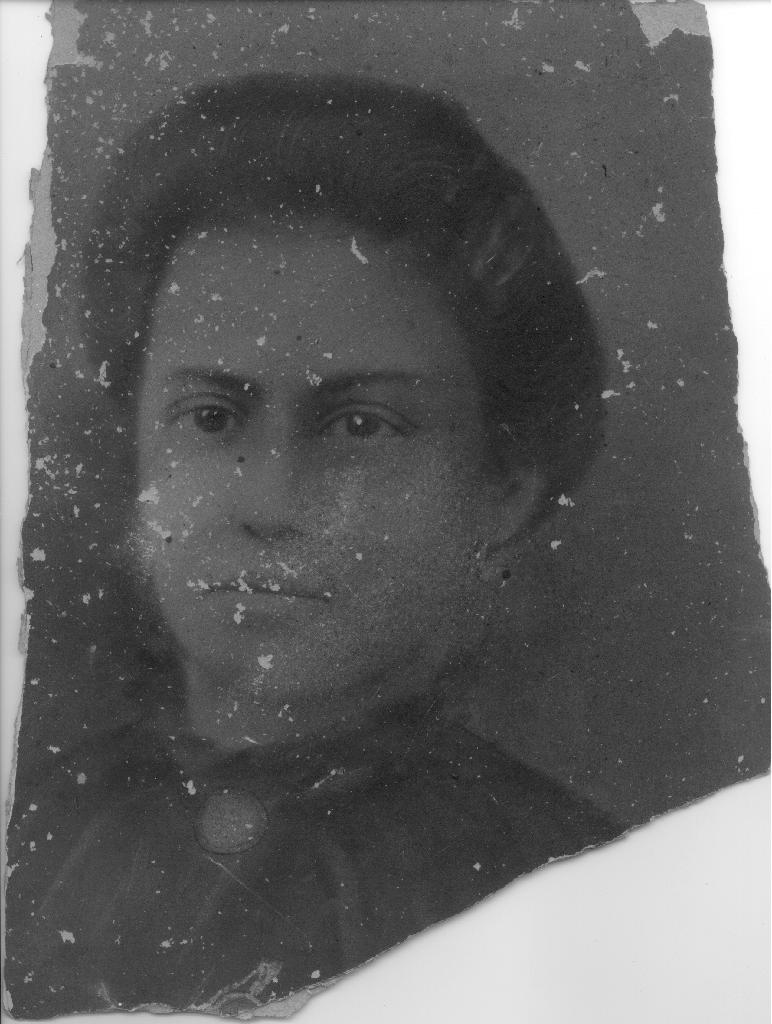 Vita Palmisano, daughter of Angelo and Giuseppa Palmisano
---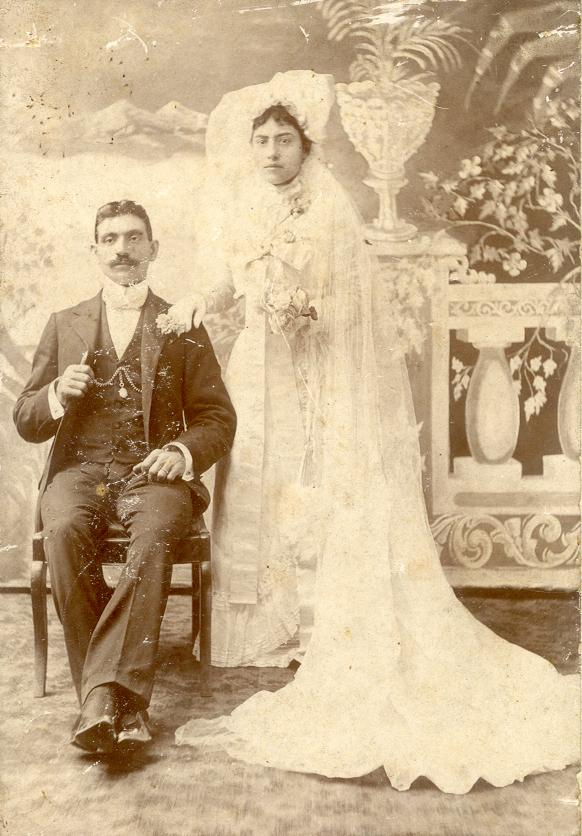 Wedding of Tomasso Marullo and Vita Palmisano
---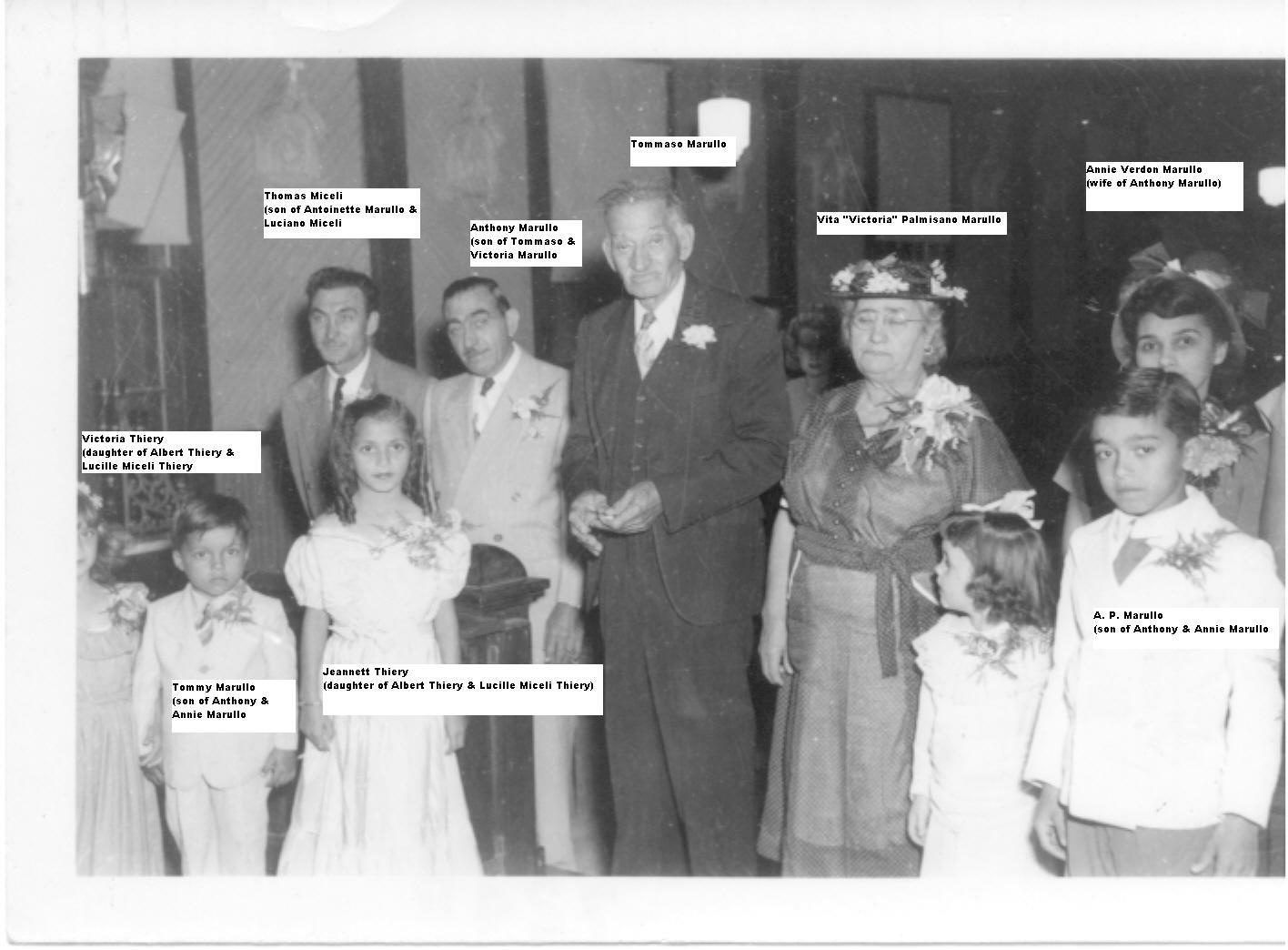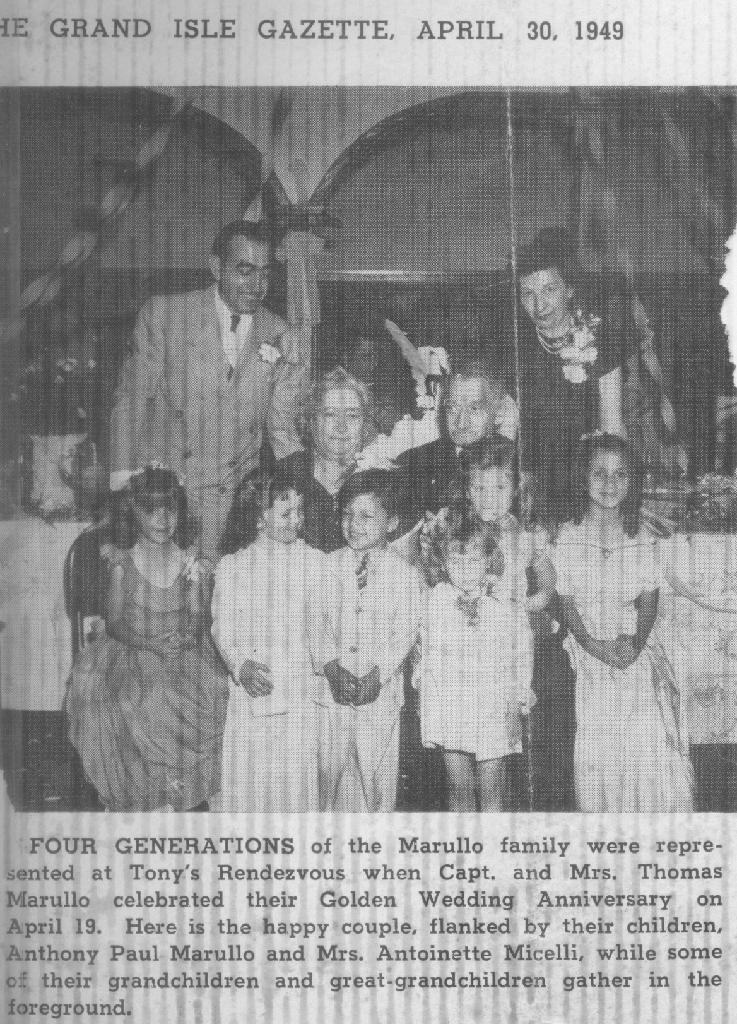 ---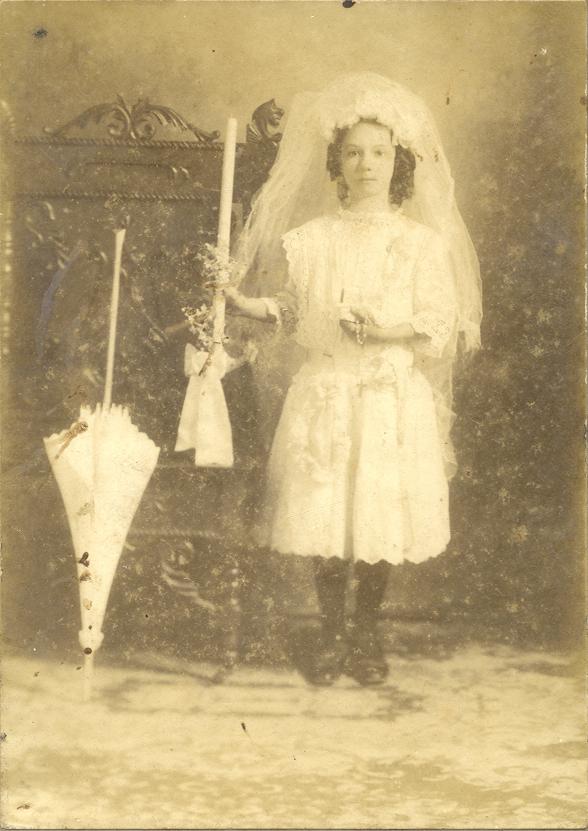 Antonetta Marullo 1st Communion, daughter of Tomasso Marullo and Vita Palmisano
---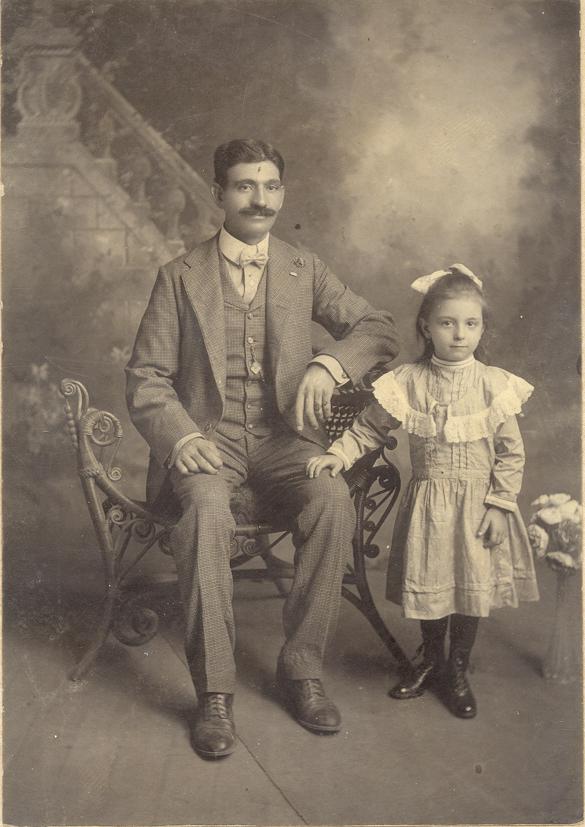 Tomasso Marullo and daughter, Antonetta
---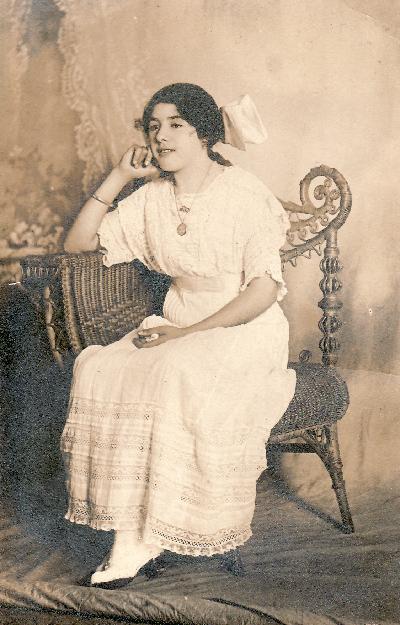 Marguerite Virgona, daughter of Gaetano Virgona and Maria Maggiore
---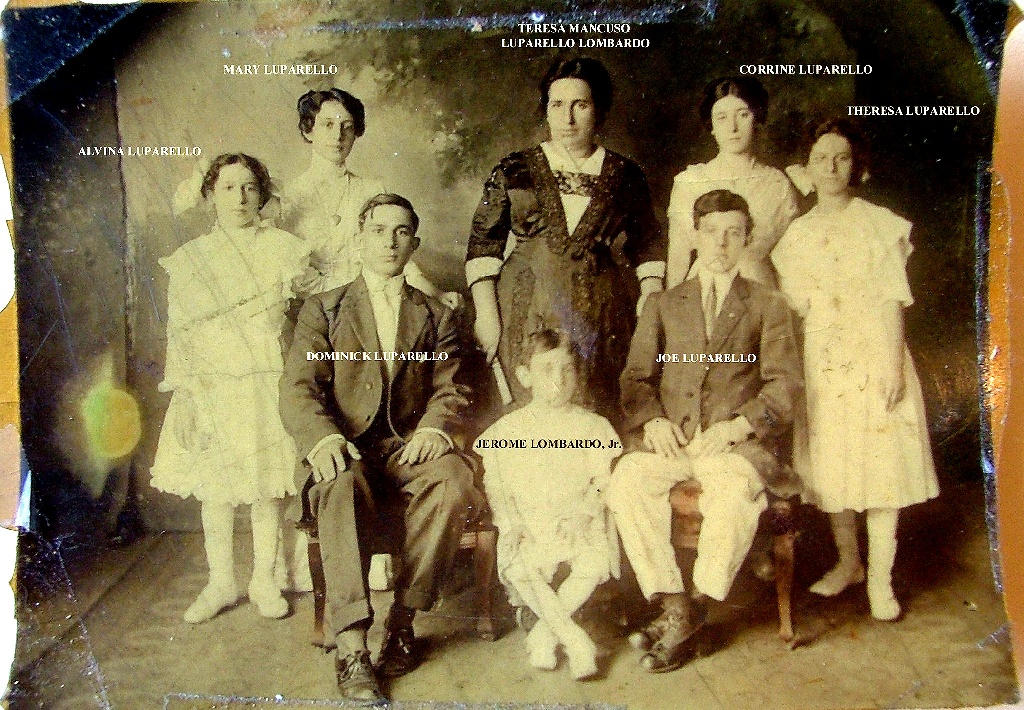 Submitted by Lisa Luparello Alphonso
---
Photos from the collection of Leonarda Papa (b. 01-DEC-1862 Ustica), wife of Guseppe Cusimano (Guseman). Sometime in the late 1800's, this family moved to Houston. Click HERE to see the complete collection of unidentified photos.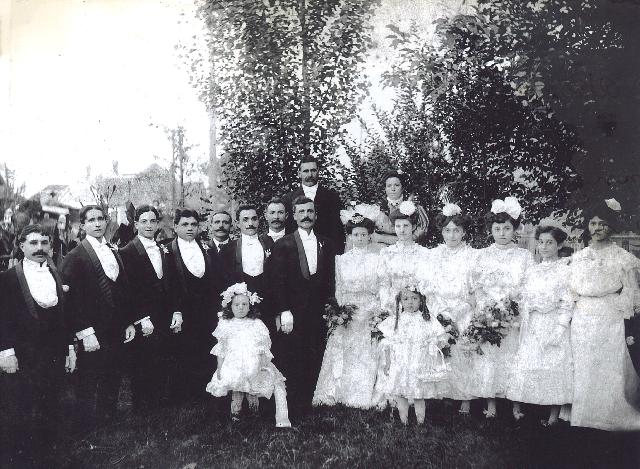 Circa 1876, believed to be in New Orleans. All participants unknown.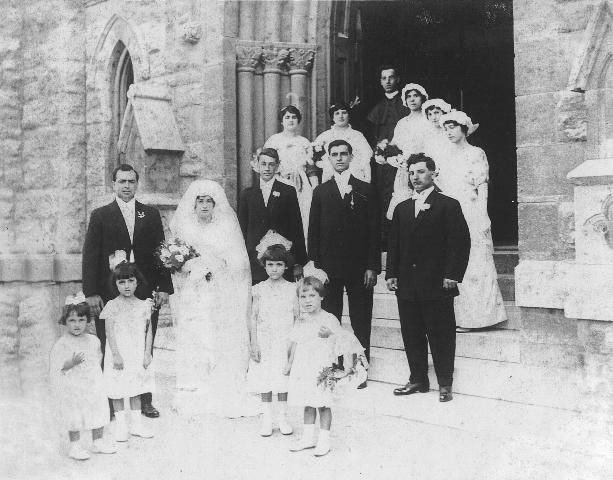 Circa 1920, believed to be in New Orleans. Only known person is the 2nd man from the right, Tanny Charles Guseman, son of Leonarda and Joseph. Can anyone identify this church? Doesn't look like New Orleans to me.
---
DelBuono Family of New Iberia, circa 1895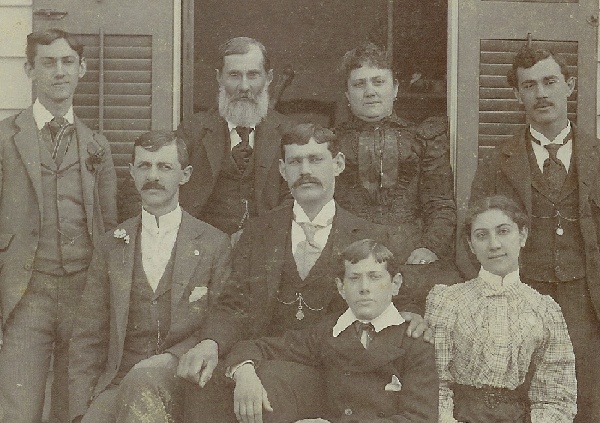 Joe DelBuono (1878-1973), Pasquale DelBuono (1847-), Maria Rosa Bertucci (1851-1943), Tony DelBuono (1876-)
Frank DelBuono (1874-1962), Raphael (1870-), Carl DelBuono (1884-), Rose DelBuono (1880-)
---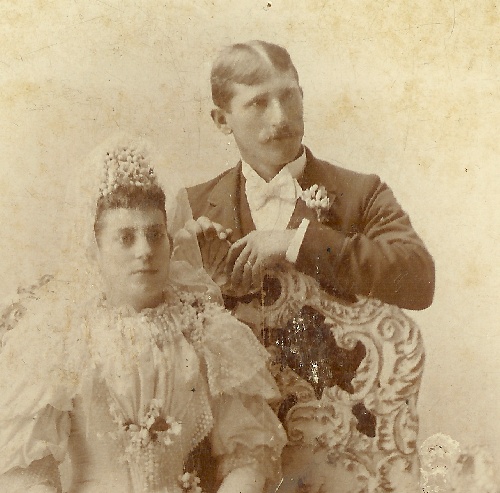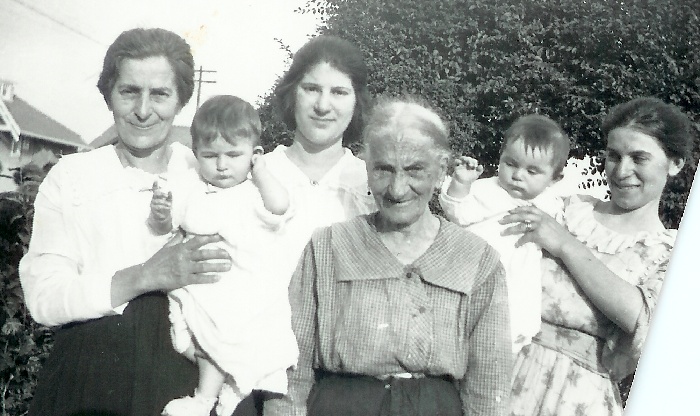 1893 Andrea Najolia (1864-1956) and Maria Concetta Najolia (1871-1945)

~1920 Maria Concetta Najolia (1871-1945), Anna Felicia Palmisano (1919-1999), Florence Najolia (1904-1998), Anna Bertucci (1843-1933), Anthony Joseph Bertucci (1919-1999), Sadie Najolia (1895-1988)
Lorenzo Ingargiola
m.
Santa Martello
Cristofaro Ingargiola
m.
Anna Bertucci


Andrea
Najolia
m.
Maria Concetta
Najolia

Anna Najolia
m.
Dominick Palmisano

Sadie Najolia
m.
Joseph Peter
Bertucci

Lucille Najolia
m.
Albert Castillou

Rosa Najolia
m.
Dominick Licciardi

Florence Najolia
m.
James Hostler


Anna Felicia
Palmisano

Anthony Joseph
Bertucci
---
Angelo Bertucci
m.
Maria Basile



Pietro
Bertucci

Emmanuele
Bertucci

Rosalia Bertucci
m.
Giuseppe Licciardi

Gaetano
Bertucci

Giuseppe Bertucci
m.
Rosa Palmisano



continued below

Maria Basile (1867-1936) &
Angelo Bertucci (~1856- )
Pietro Bertucci (1883-1951)

Emmanuele Bertucci (1898-1968)

Rosalia Bertucci (1896-1979)

Gaetano Bertucci (1901-1982)

Rosa Palmisano (1891-1976) &
Giuseppe Bertucci (1886-1971)
continued from above


Angelo Bertucci
m.
Angelina Picone

Angelo Bertucci
m.
Gerry Harney


Angelo Bertucci (1908-1993) &
Angelina Picone (1918-2004)

Angelo Bertucci & Gerry Harney
---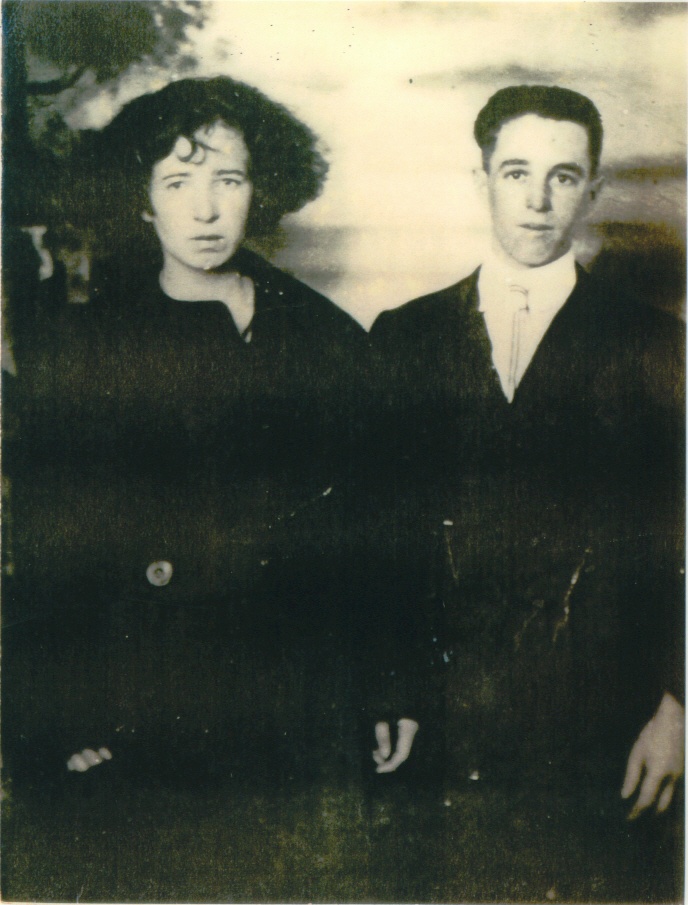 Joseph
Spano
m.
Emily
Roubleau

Angelo
Spano
m.
Mary
Bordelon

Emily Roubleau and Joseph Spano (1903 - 1979)
---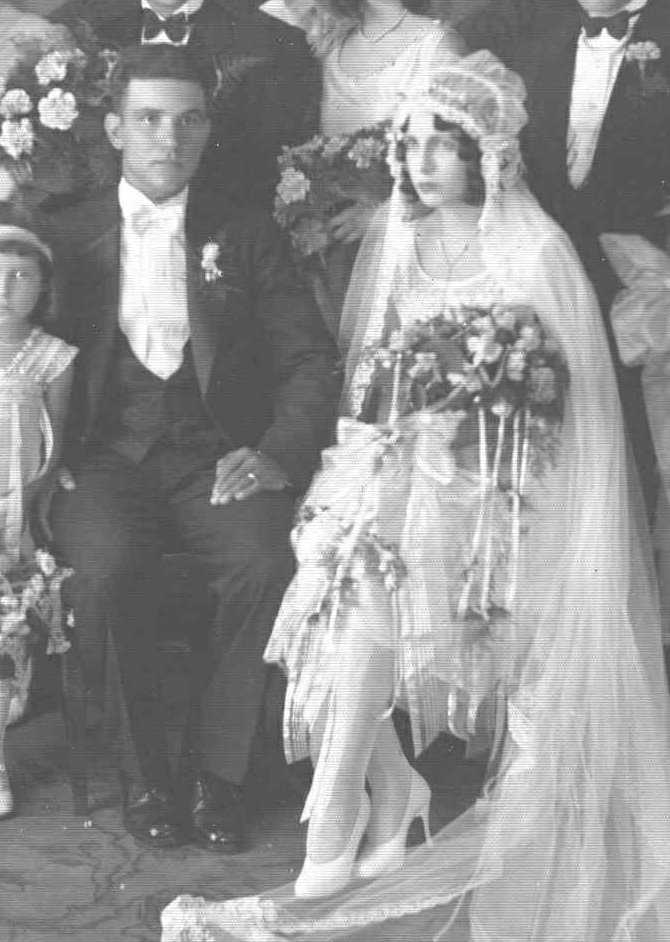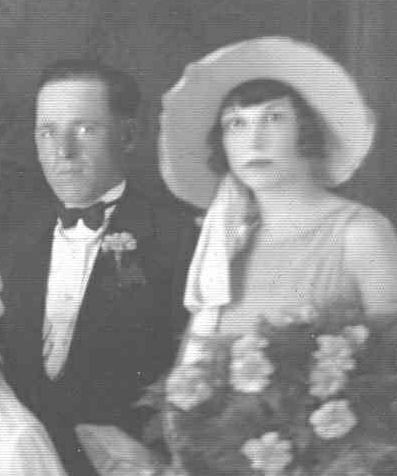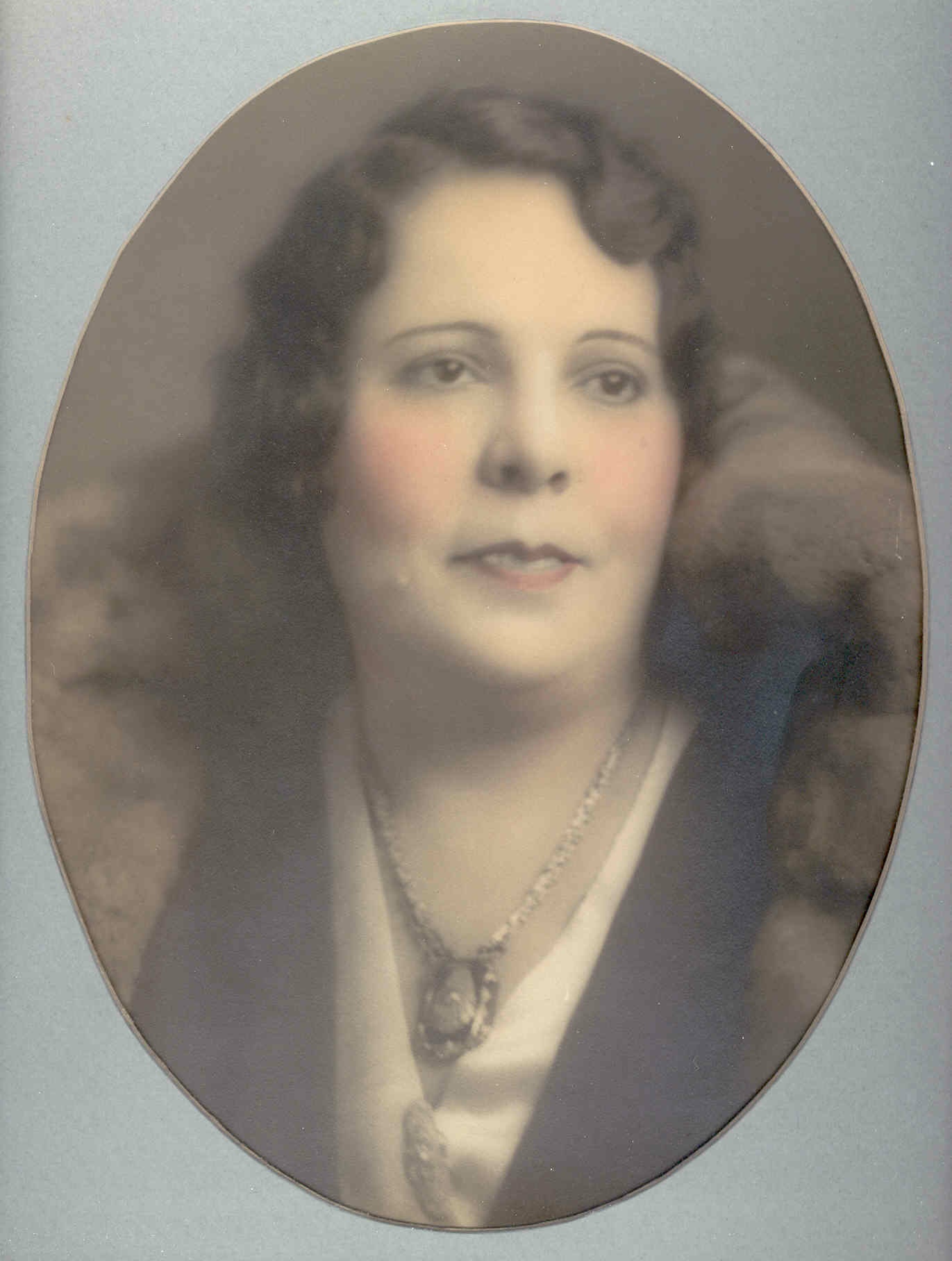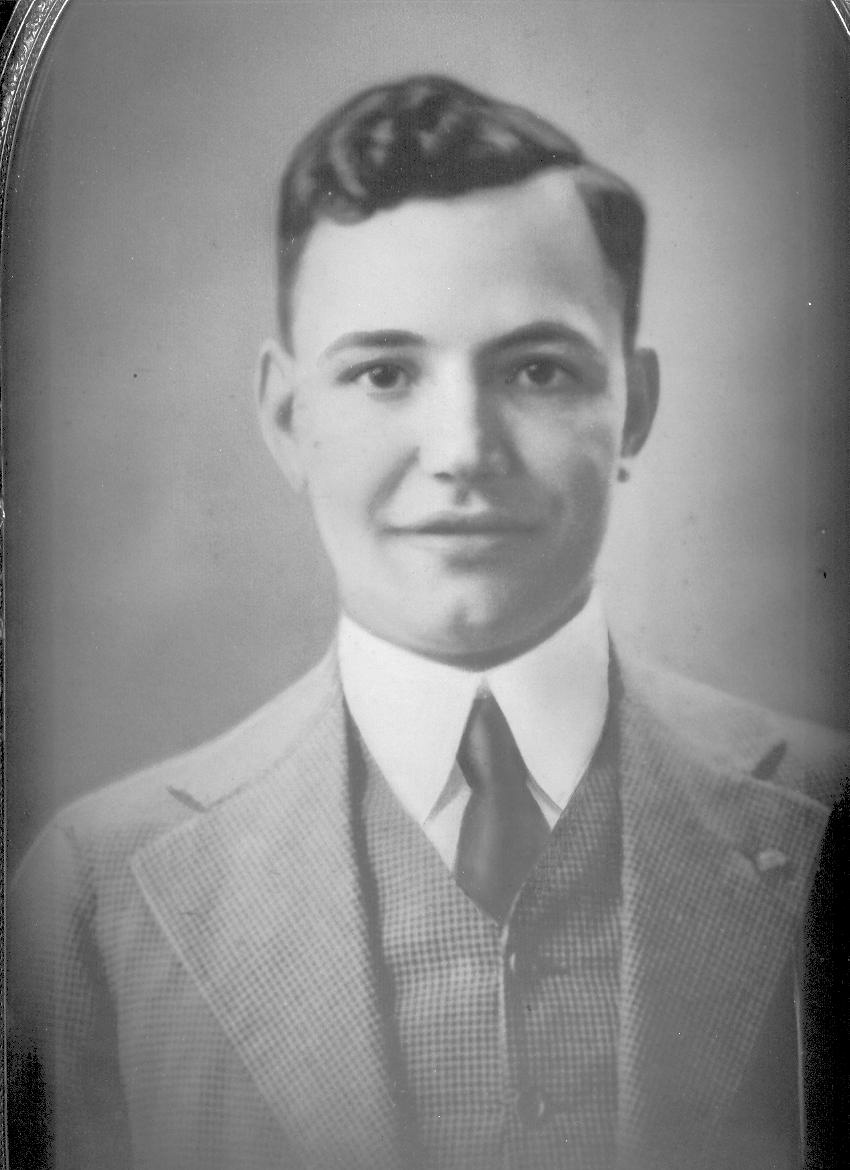 Tom Bazile and Angelina Mumfre
1929

Leo Bertucci and Genevieve Mumfre
1929

Mary Caravella Mumfre Bazile
1940

Jack Joseph Bazile
1919
Unknown
Mumfre
m1.
Mary
Caravella
m2.
Jack Joseph
Bazile

Tom
Bazile
m.
Angelina
Mumfre

Genevieve
Mumfre
m.
Leo
Bertucci

Thomas Michael
Bazile

Anthony Thomas
Bazile
---
---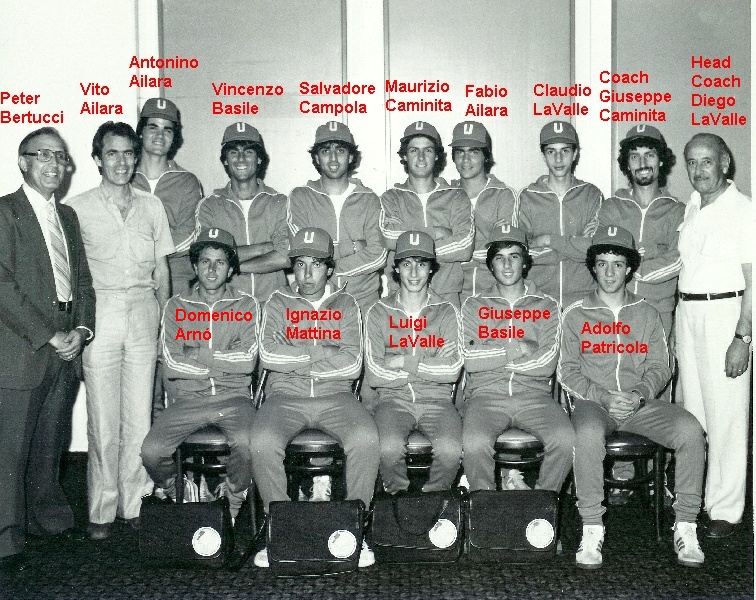 New Orleans - 1982. The boys baseball team from Ustica came to New Orleans for some exhibition games.
---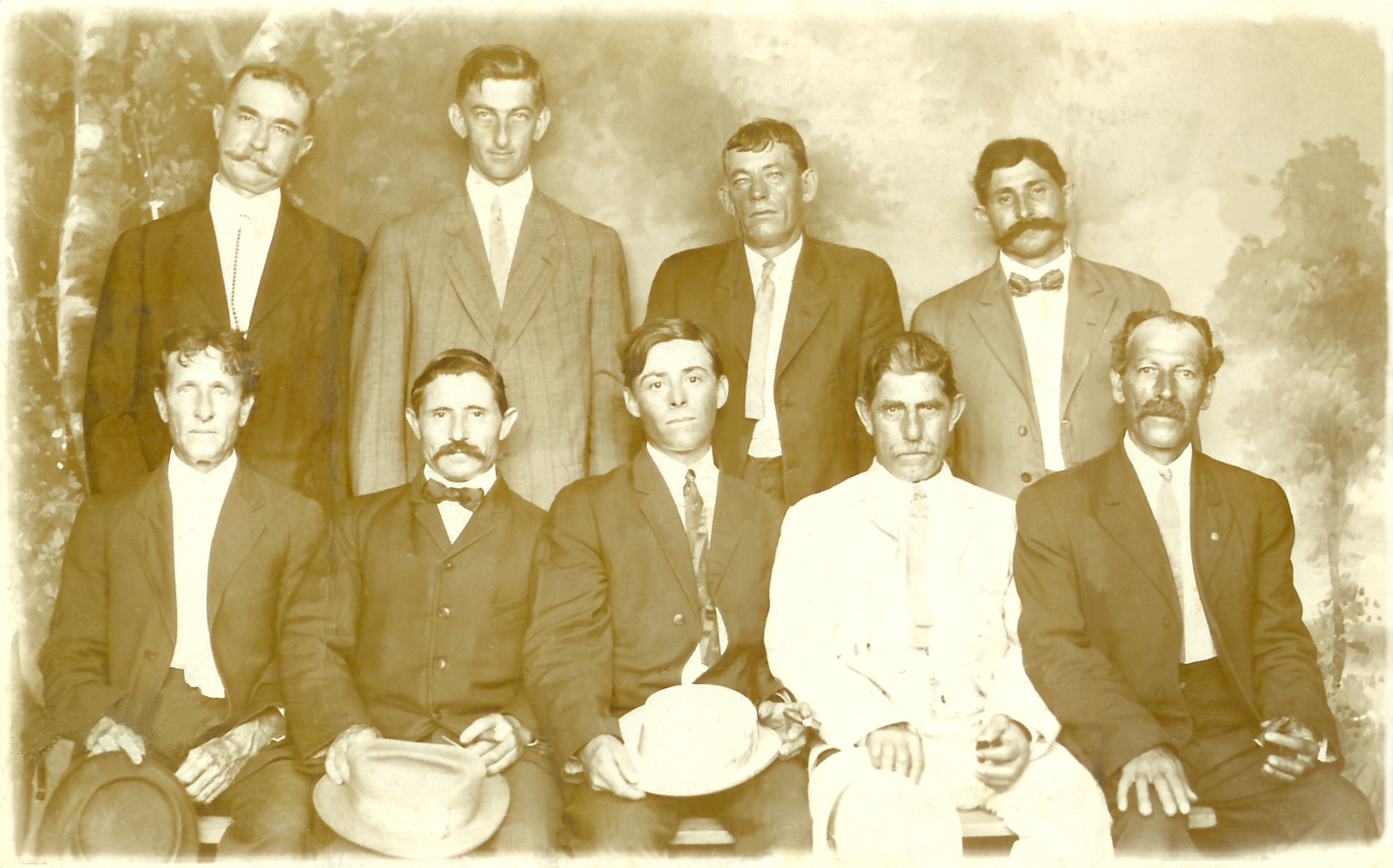 Please help us identify these Usticese men! This is a photo of the San Bartolomeo Society of New Orleans. The only person positively identified is bottom row last man, Antonino Bertucci (b. 20-JUN-1857 Ustica, d. 17-FEB-1944 New Orleans, husband of Rosalia Omner (aka Gumina)). Upper row 1st man is believed to be Antonio Sidoti (b. 17-SEP-1832 Ustica, d. 12-JUN-1909 New Orleans, husband of Rosalia Poretto). It is strongly suspected that upper row 2nd man and bottom row 1st man are Bertucci. Also bottom row 4th man may be Tranchina. Photo from the family album of Marilyn Barbera.